Discover more from Deus Ex Mochaccino
Just the news and highlights from Andrea Phillips
America, Inc: A novel of democracy and dirty tricks
Remember that one time I wrote a novelette about a corporation-led revolution and people liked it?
So yeah, I wrote a book.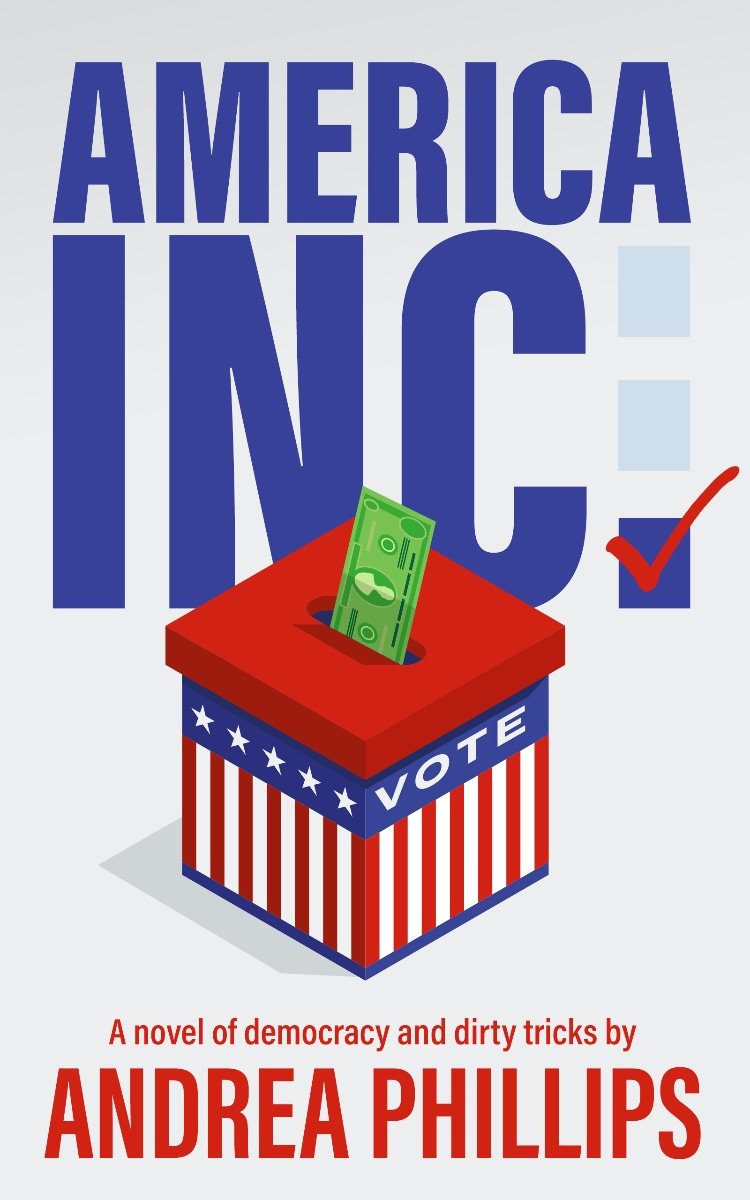 It's not the same story, though it starts where The Revolution, Brought to You By Nike ends, and Corazon is one of the main characters. It's about a corporation running for president! It's also about money, power, idealism, pragmatism, and the 2024 election cycle.
Here's the cover copy:
A corporation is running for president. And that's the good guys.

Toby Mitchell is a newly minted dot-com billionaire who never saw a problem he didn't think he could fix — and now he's setting his sights on democracy. 

Corazon Matapang led a revolution that toppled a president, sponsored by a shoe titan. Now that she's had a taste of shaping history, she wants more.

Berry Cantor is a subsistence journalist just trying to make rent any way she can.

Together the three of them take the relationship between corporate and political power to places Adam Smith never imagined. America will never be the same.

"Andrea Phillips is a visionary, a serious thinker about the present and the future who wraps her insight in delightful storytelling and delicious characters." Naomi Alderman, author of The Power
Ebooks are available for preorder on Amazon right now; there will be a paper edition, but you may not be able to order it until the release day, which is July 7.
That's in THREE WEEKS!
This is a self-pub jam, which means that you won't find it on your local bookstore shelves. And unfortunately, ir means Amazon's the only game in town for me, because it's tough to jump down to a 30% royalty vs. a 70% royalty when it's coming from the place that 95% of your sales will happen. But in order to soothe my conscience, I am donating 15% of net profits from this book to Common Cause, a nonprofit that works to promote and preserve American voter rights.
But that only kicks in if I sell enough copies to make up for production costs — which works out to be 715 copies before I break even.
In the interests of radical transparency and fighting the man, I'll tell you: right now I have 42 preorders, which is a real long way from breaking even. But I believe in this book, and I believe in my readership.
But I can still sweeten the pot a little, right?
Most preorder promotions promise to send you postcards or stickers or swag that you're just gonna throw out in a few months or a few years. Let's not support the capitalist waste cycle, and go another way: I'm going to live tweet movies I've never watched before.
If I get to 150 preorders, I'll watch Twelve Angry Men. Which, no, seriously, I have never seen.
If I get to 250 preorders, I'll watch Wag the Dog.
If I get to 500, I'll watch… ugh, Idiocracy. Fine.
And if I get to all 715 preorders needed to break even, I will watch a season of your choice of West Wing. Friends, I have never watched even a single episode of West Wing, if you can believe it.
Anyway, you know what you need to do. Buy my book! Also vote. And wear a mask. We need to be looking out for each other any way we can.