Discover more from Deus Ex Mochaccino
Just the news and highlights from Andrea Phillips
America Inc. Zoom Book Party

Wait for it... wait for it... waaaaaiiit..
It's party tiiiiiime!
...and of course you're invited! Because today, America Inc. is available in a web browser near you, ebook and print editions alike. Pop your corks! Throw your confetti! Wooooo!

I wanted to have a proper book launch for America Inc. with mid-priced wine and a sad spread of cheese and crackers, but instead we're goin' high-tech, baby!

I'd love for you to join me for a fancy Zoom book party on Sunday, July 12! It's at 5pm Eastern time. I trust you to do the time zone calculation from there, because I sure as heck don't trust me. (The complete details are at the end of this email.)

I'm gonna wear false eyelashes and drink champagne! Feel free to come in your best sparkles or hats or whatever makes you feel good about yourself. I reckon we'll chat a little, maybe I'll do a reading from the book, probably we'll wind up talking about what we're all eating because that always happens. We've got the room for a couple of hours, so feel free to dip in and out as you like.

You have to bring your own mid-priced wine and sad spread of cheese and crackers, though. Or shoot for the moon. Make it ginger ale and tacos! Grog and escargot! Mead and banh mi! I'm not the boss of you.

And say, while I have you, the first couple of reviews are in for America Inc. Let's take a peek, shall we?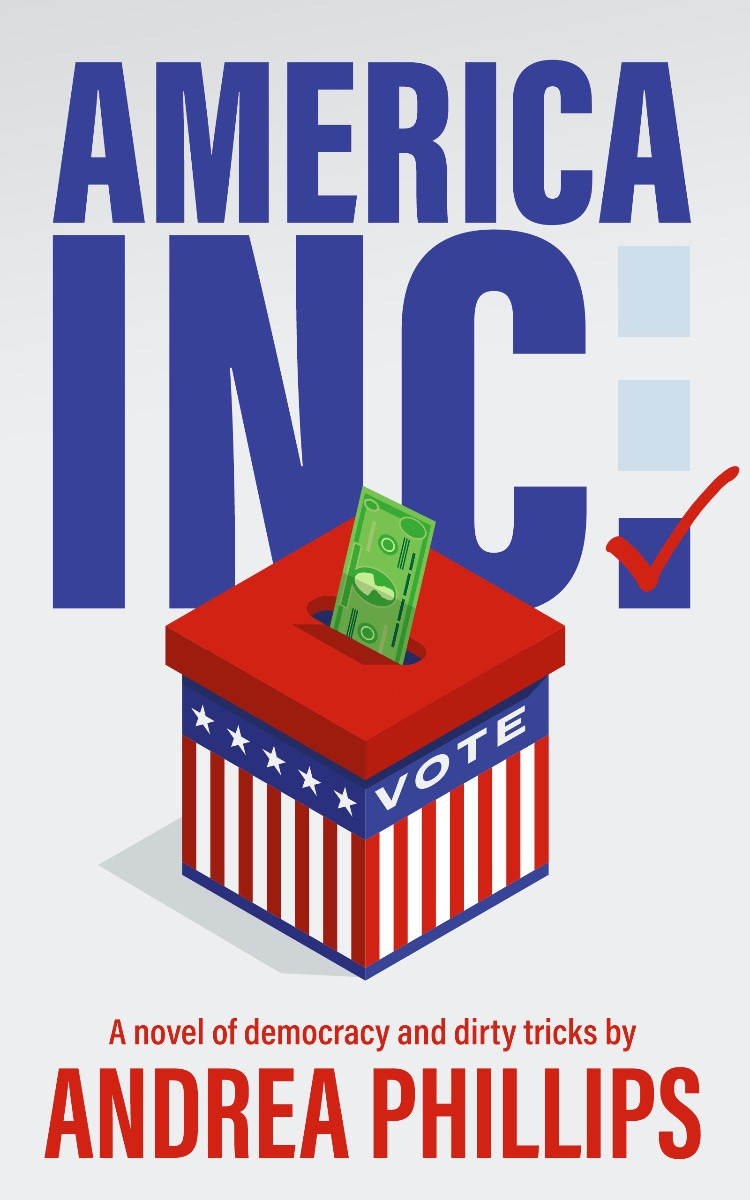 America Inc looks at our current political environment and campaign finance situation, and imagines where we go from here. Phillips insightfully describes how our system currently works, how it could get worse, and how it could be made better. Her exploration of how marketing and psychology could be used for the power of good is particularly interesting. She accomplishes all of this through a compelling plot and the viewpoint of realistic and likable characters.

***

In America right now, more energy is being spent on voter suppression than on getting new voters to the polls. It's nice to imagine a world where politicians, corporations, and advertisers work together to encourage participation in the democratic process. I enjoyed spending time in the company of smart people trying to do the right thing.

***

Excellent book. An fascinating fiction of what could be in an America where a corporation can be a "person". I suspected where the story would end up but the journey to get there kept me guessing with all sorts of twists and turns. I now want to know what happens next!

Dang, that sounds like something I wanna read, how about you?

But seriously... they like it, they really like it. Cue endless weeping. It's a tremendous, indescribable feeling to see people respond to something you've made better, even, than you dared to hope. This book comes straight from my heart, and I sincerely hope you're willing to give it a shot.

And now, as promised, here are the complete Zoom deets:

Topic: America Inc. Launch Party
Time: Jul 12, 2020 05:00 PM Eastern Time (US and Canada)

Join Zoom Meeting
https://us02web.zoom.us/j/82497005965?pwd=dEZFaE9DdHpYUVpXWnMrOEYwajEydz09

Meeting ID: 824 9700 5965
Password: 606674
One tap mobile
+16465588656,,82497005965#,,,,0#,,606674# US (New York)
+13126266799,,82497005965#,,,,0#,,606674# US (Chicago)

Dial by your location
        +1 646 558 8656 US (New York)
        +1 312 626 6799 US (Chicago)
        +1 301 715 8592 US (Germantown)
        +1 669 900 9128 US (San Jose)
        +1 253 215 8782 US (Tacoma)
        +1 346 248 7799 US (Houston)
Meeting ID: 824 9700 5965
Password: 606674
Find your local number: https://us02web.zoom.us/u/kef4kg9j2h

You're the best. Did I ever tell you that? You really, really are. Thanks for being here.